Scroll down

Scroll down

Scroll down

Scroll down
Welcome to Augustine
Kitchen Restaurant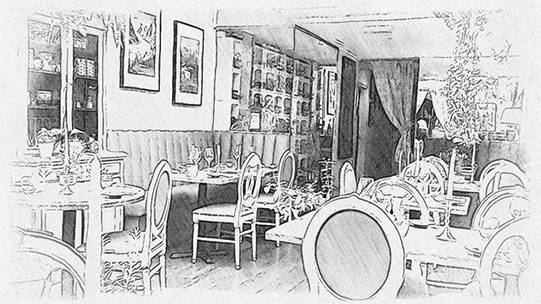 Named after Franck Raymond's grandmother, Augustine Kitchen showcases truly authentic French dishes,
with a focus on produce from the Evian region where Franck was born.
Augustine Kitchen is a 45 cover restaurant and has got an intimate family feel with a focus on good quality produce and wine. The producers are handpicked, to ensure the very best quality, including charcuterie from Monsieur Colliard and fish from Mouchet Anythy sur Leman, a fourth generation fisherman.
regional dishes feature Reblochon tarte, gratin of crozets and delicate smoked fera, whilst other highlights range from the sublime snails served with garlic mousse and parsley butter to pike quenelle or pork shank which has been slow cooked for 36 hours.
In addition to this, you will have the chance to enjoy a number of different specialties hailing from Evian which harks back to Franck's actual upbringing there.
Behind the bar, the handpicked selection of wines are displayed in open racks, in a typical French charm, a
long with a fine selection of Armagnacs, Cognacs and other well known spirits.
Augustine Kitchen is Located just 8 minutes walk from kings road.
We hope it can be a perfect neighbourhood bolt hole for you!